Prominent Participant in the Team Hope Walk Terry Leach, 16, of Clairemont
Apr 30, 2014 02:40PM, Published by Chris O'Connell, Categories: Community
---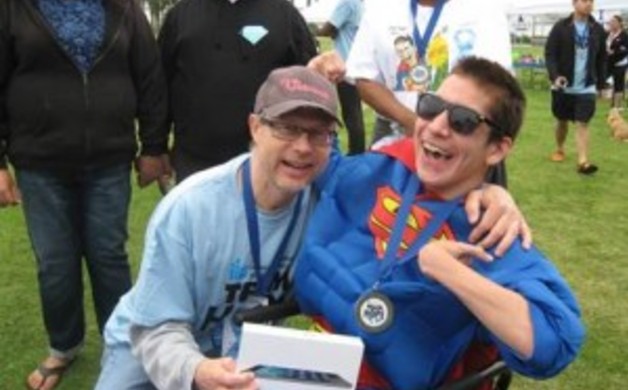 Ken Serbin, left, of Tierrasanta, raised the most money for the Team Hope Walk to support research on Huntington's Disease and San Diegans who are afflicted. He gave his prize, an iPad, to Terry Leach, 16, of Cliaremont, who suffers from HD. Terry and his family are prominent supporters of the San Diego Chapter of the HDSA and its fund-raising efforts.
---
---
Team Hope Walk Raises $35,000
for Huntington's Disease Research & Support Services
More than 500, including patients with the tragic Huntington's disease and their family and friends, participated in the third annual Hope Walk on April 13, raising $35,000 for the San Diego Chapter of Huntington's Disease Society of America (HDSA).
The turnout was a record, according to Misty Oto, of Tierrasanta, and Nan Pace, of Pacific Beach, who were co-chairs of the event and are members of the HDSA-San Diego board of directors. Proceeds from the walk at Coronado Tidelands Park will serve ongoing research and education toward finding a cure, and provide support services for those living with Huntington's disease (HD) in the San Diego region.
HD is a fatal genetic brain disorder that causes the deterioration of all mental and physical capabilities, and affects tens of thousands of Americans each year. As awareness about this debilitating disease remains low, one goal of the walk and other public events is to honor those living with HD, as well as those who are making a difference in the mission to find a cure.
Prominent participant in the walk was Terry Leach, 16, of Clairemont, who has juvenile HD and lost his ability to speak and walk. He chokes on foods and liquids and has had a feeding tube for four years. Family members and other HD supporters helped push Terry in his wheel chair during the walk, which he had helped promote by providing messages about his efforts to rise about the disease that could be included in promotional materials about the walk. Despite his affliction, he is in eleventh grade at James Madison High School and on the principal's honor roll. An aide pushes him to class and takes notes.
driver
"I need assistance with everything I do, like showering, brushing my teeth, getting dressed," Terry told supporters in a written message. "I used to play video games but it has gotten too difficult to use the controllers. I do enjoy playing computer games though.  My family and I volunteer and support the HDSA in hopes that a cure for HD will be found."
---
---
---
You might also like
Fire Destroys Clairemont Landmark
A fire in mid-June all but destroyed what was once the Jack LaLanne fitness center at the 3000 block  Clairemont Drive.  Renovations and improvements were taking place as the new owners of the gym had
Skate Park in Linda Vista is Gaining Momentum
On any given night in Linda Vista kids gather in the LV shopping center to skateboard, they are with their friends, practicing tricks, and participating in a healthy positive activity.
---